Editors Note: Updated October, 2018
Now that fair weather is arriving, it's time for some great family fun in the sun!
For many people, few outdoor activities are as relaxing – or rewarding – as grilling and entertaining guests in their own backyard. Bringing people together over delicious food, lovely scenery, and great conversation is a staple of summertime Americana. And because our patio get-togethers hold such a venerated position in our culture, isn't it fitting that we should strive to make our backyard as beautiful, welcoming, and fun as possible? Indeed, having an outdoor kitchen can make your patio THE hot spot to be all season long!
Many designers hold the belief that your "exterior space" should be an extension of your interior home, not something totally separate. In many ways, a patio in the summertime is like a second living room, a "home" outside of home. If you want to make your patio kitchen as awesome and inviting as possible, you're going to need 5 things:
Top 5 Outdoor Kitchen Necessities
The Grill
The grill is the foundation of your outdoor kitchen, and to many, the place where "the magic happens." It should never be centrally located in your backyard, but it should not be too far out of the way either – the grill is still a social place, and no chef wants to be removed from the party. And truly, no party wants to be removed from its chef! The best part of an outdoor kitchen, after all, is that the host gets to be part of the conversation rather than just running in and out all the time.

If you have the budget for it, a gas grill recessed into a stone bar countertop is ideal because it gives you plenty of counter-space to work with (for food preparation, temporary utensil storage, and of course, offering a place to rest your beer or lemonade within easy arm's reach). You want this grill to be a gas grill because they are easier and faster to start. They also typically give off less smoke and tend to be cleaner than charcoal grills, which is desirable because this will keep smoke out of the eyes of your sous chefs and dishwashers who will be near the grill space!
Another option you have is using a smoker. Instead of using direct flame to cook your food, low heat and smoke are used with a smoker. It's a more time consuming process, but that's part of the appeal of using a smoker. If you're really getting after it, why not both? If you're in the market for a new smoker, check out this awesome article that gives you everything you need to know about your potential addition to your outdoor patio.
But what about that tasty wood and charcoal flavor, you ask? Well, that's why you invest in a firepit or brick oven too!
The Firepit (or Brick Oven – or Both!)
The nice thing about a real fire, as opposed to a gas grill, is the sheer amount of heat you can get out of it. And when it comes to searing steaks and bell peppers, nothing beats an open flame. And it's not like you can roast marshmallow s'mores off a gas grill either! Hence, the importance of a firepit (and/or, if space and budget allow, an open wood-burning brick oven). Time to bring out the kabobs! If you're ready to dive right in, we put together an ultimate fire pit buying guide that will answer every question you have about fire pits!
Chiseled Fire Pit – $4,000
Firepits work best with real wood for fuel, and perhaps some lava rocks to properly preserve and emit heat for effective cooking and area-warming. You can view more styles of Stunning Poolside Fireplaces by reading this post.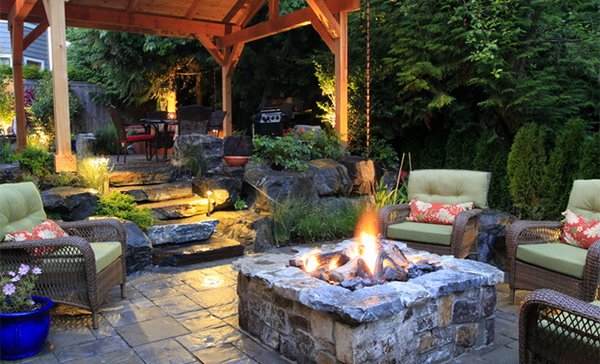 Firepits should be the center of attention, somewhere very prominent and accessible on your patio. We mentioned in our "16 Ways to Make Your Backyard Look Supersized" blog post how important it is to have a focal point, and our favorite is definitely a fire pit. They are generally in a very central location. Not only are these pits suitable for kabob-style grilling, they are also great for keeping company warm and creating a friendly, inviting atmosphere. So be sure to bring out the bean bags, throw pillows, and comfy outdoor sofa cushions!
Sinks and Plumbing
What good would an outdoor kitchen be without a sink? This will make it easy to clean and prep all your vegetables and even wash dishes outside so, again, you can host your event and still be where the party is.
For the countertop around the sink, real stone is nice but can be very pricey – it may be worth it to invest in some quality stone veneer instead. This will protect the foundations and requires little maintenance.
Water can be a little tricky on the patio. If you just want cold water it's easier, but if you want hot water as well, consider an under-counter water heater located below the sink. This is far cheaper than running additional water lines from the house, and tends to be more efficient for small-scale water heating. You'll need to winter-proof your outdoor plumbing to keep your pipes and valves from freezing over and possibly bursting during the cold season. Obviously, if you live in a year-round warm climate, you may not need to take such precautions.
The Mini Fridge
Ah, the mini fridge! This is pretty straightforward; mini-fridges look great installed into your primary outdoor kitchen workstation, likely near the sink. These are useful for storing food and beverages so your guests don't need to leave the patio to grab some refreshments. Your fridge should have a dedicated outlet, as they often need lots of amperage. If you want more outlets, install them on separate circuits and mount them above the countertop so you can use your blenders, rice cookers, and whatever else you want to plug in outside.
Lounge furniture
La piece de la resistance! Great lounge furniture is the final piece of your patio living puzzle. Once you've got a great workstation, fantastic food, and a roaring welcoming firepit, now you just need to make your patio a cozy place for your guests to put their feet up and relax. And perhaps even take a nap after eating all your tasty barbecue! Browse through the Forever Patio Catalog to view the latest outdoor sectionals, day bed, bar sets, and more!
Avion 4 Pc. Sofa Set – $2,399.00
Outdoor sofa sets are great around a fire pit, as are oversized throw pillows and daybeds. Materials should ideally be resin wicker (real wicker is best for indoor use as it is prone to fraying and warping with humidity and heat) and waterproof, fade-proof fabrics like those offered by Sunbrella. Aluminum makes a great frame for these types of furniture because it is lightweight and not prone to rusting. Lots of contemporary patio furniture is designed such that re-arranging is a total breeze, which is great for impromptu gatherings. Take some time picking out the best furniture set for your outdoor home, as it will surely make a big impression on your guests!
About this post
Mike is a writer and weekend warrior hailing from beautiful San Diego, where he grills for friends and family as often as he can. He believes in the power of design and good friends. He wrote this post on behalf of https://www.patioproductions.com/, a premiere source for all-weather wicker outdoor furniture of all shapes and sizes.